St. Nicolas
---
St. Nicolas church is built in 1851/1852 at the same place where a smaller church with the similar name was placed before. The builder was the proto-craftsman Andreja Damjanov (1813-1878), with lineage from the mijak family Renzovci, born in the village of Papradishte near Veles. In his productive life as a builder, he had constructed churches in Macedonia, Bulgaria, Serbia, Vojvodina and Bosnia.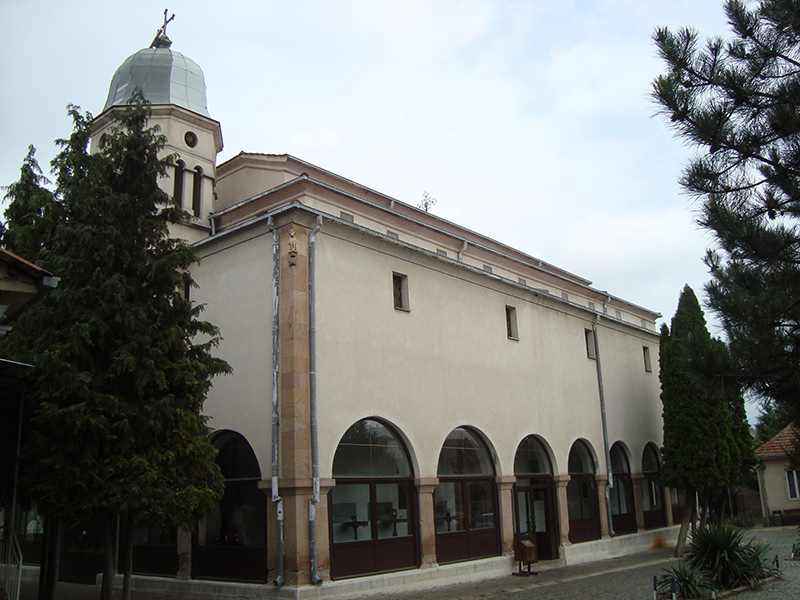 The Church is three-aisle monumental basilica type building, a characteristic for all of the sacred buildings in the Balkans in the XIX century period. It is build from stone and bricks. On the northern side there is a porch with colonnades.
The central aisle is overtopping with four blind domes. Above the northern, western and southern part of the Church extends a gallery where a unique collection of icons is placed. Above the western part of the gallery extends another one, but with smaller dimensions.
The oldest fresco-drawing is performed only in the blind domes of the central aisle and origins probably from the sixth decade of the XIX century.† The author is assumed to be the icon painter Dicho from the village of Tresonce with same of his associates. The iconostas is representative and has three rows of icons; carved royal gate and an honour cross with crucifixion. On it there are placed icons, made in different time and by diversí icon painters.† The earliest are from 1855 from the icon painter Hagi-Kostadin from Veles, Dicho the icon painter (1856/57), Veno and Zafir (1868/9 and 1873) and from D.A. Papradishki (1908). From the Church furniture (made in the XIX century) all that is left today is the carved valdian throne from 1892 and the amvon, placed in one of the pillars on the northern colonnade (probably from the same year). The oldest icons in the gallery originate from the old iconostas at the monastery of Karpin. The vast number of icons is from the famous mijac icon painter Dimitar KrstevichñDicho from the village of Tresonce.